Out Door Curling
Impossible in Denmark?
Sunday the 5th of december 2004 Aarhus Curling Klub invited every to come and try the game of curling at artificial outdoor sheet of ice just outside city hall.
In order to get attention from the towm inhabitants Trine Quist 1998 Nagano Olympich Silver Winder and Mikael Quist coach for the 1998 Nagano Olympich silver winners, and Henrik Hansen 2001 world wheelchair curling champion along with Kenny Tordrup from Team Thorkild Svendsgaard playes a show match against a local team.
Though temperatures above 8 degrees celcius and rain several hundreds af interested people visit the game, and afterwards something between 70 and a hundred tried the game themselves.
Trine Quist shows That she is still going strong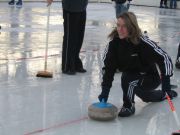 Berit local president looking strong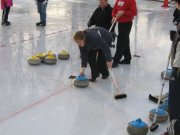 Kenny Tordrup shows how to slide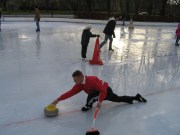 Former national coach Mikael Quist teaches the press how to slide